23 Jun

Empower Your Sales and Customer Service Teams

What if you could empower your sales and customer service teams with integral customer billing information right at their fingertips?

Over the last 5-10 years, Customer Relationship Management (CRM) platforms have become a key mechanism for meeting ever-changing customer needs and expectations and Salesforce is considered best-in-breed in this arena. However, even the best-of-the-best can be built upon to provide even more access for sales and support teams. One key way to build upon your Salesforce application is by providing up-to-the-minute access to customerorders, billing and payment information.

Key Features
Accept payments from within Salesforce
Access to customer invoices, aging information, and payment history
360-degree view of customer accounts with Chatter notifications
Update billing contact information
Create new subscription orders and manage existing orders
Seamless integration with ERP and Customer Self-Service portals
Benefits
Reduce aging and over extension of credit limits
Shorten call times
Easily identify opportunities for cross-selling and up-selling
More quickly resolve customer questions and issues
Reduce errors, by reducing time spent on redundant data entry and credit card verification, reconciliation, etc.
Customer needs and expectations will continue to grow and evolve. They expect companies they do business with to keep up. Working with best-in-class platforms like Salesforce and BluSynergy is one way to ensure you can do just that.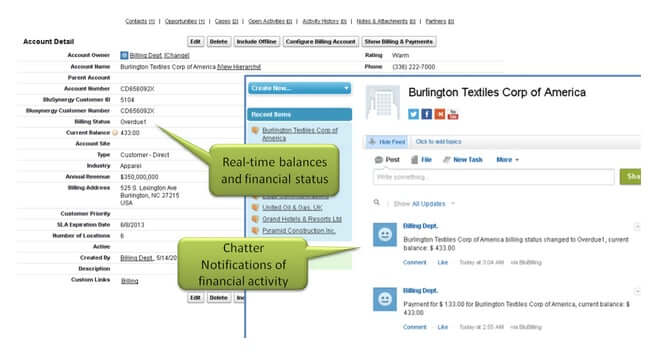 Learn more about BluSynergy's Salesforce CRM Connector or try the Billing & Payments App on Salesforce.Visit BluSynergy in the AppExchange and click the Take A Test Drive button.